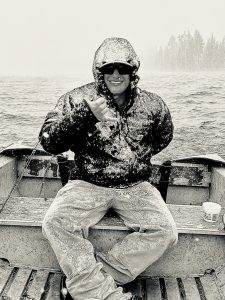 Diamond Lake is a popular destination for fly fishing in Oregon. The lake is located in the Umpqua National Forest and is home to rainbow trout, brown trout, and kokanee salmon.
To fly fish at Diamond Lake, you will need a valid Oregon fishing license, which can be purchased online or at a local sporting goods store. You may also want to consider hiring a local guide or taking a fly fishing lesson if you are new to the sport.
When selecting gear, a 5 or 6-weight fly rod is suitable for most fishing situations at Diamond Lake. A floating fly line is also recommended, as well as a variety of fly patterns such as wooly buggers, nymphs, and dry flies.
It is important to check the local fishing regulations before heading out on the lake, as certain areas may be restricted or require catch-and-release fishing only. Additionally, be sure to follow proper catch-and-release techniques to help preserve the fish population.
Overall, fly fishing at Diamond Lake can be a rewarding experience for both novice and experienced anglers alike. With its scenic location and abundance of fish, it is easy to see why it is a popular destination for fly fishing enthusiasts.
Diamond Lake in Oregon is a popular spot for fly fishing, thanks to its large population of rainbow trout and other fish species. Here are some things you should know before planning your fly-fishing trip to Diamond Lake:
Fishing regulations: Make sure you have the appropriate fishing license and check the regulations for Diamond Lake. There may be restrictions on the types of bait, lures, or flies you can use, as well as catch limits and other rules.
Fly fishing gear: Bring a 5 or 6-weight rod, as well as a reel with a good drag system. You'll also need a variety of flies, including midges, leeches, and wooly buggers.
Best time to fish: The best time to fish at Diamond Lake is from late spring through early fall. The water temperature is usually ideal for fishing during this time, and the fish are more active.
Access points: There are several access points around Diamond Lake, including the resort area, the fishing dock, and several boat ramps. Check with the resort for current conditions and recommended spots.
Other activities: In addition to fly fishing, Diamond Lake offers a range of other activities, including hiking, camping, and wildlife watching.
Remember to respect the environment and follow the catch-and-release policy to help maintain the fish populations in Diamond Lake. Enjoy your fly fishing experience!